REVOLUTIONARY NANO GLASS COATING PROTECTS CHILDREN'S CHARITY & SIDLEY THE BEAR
---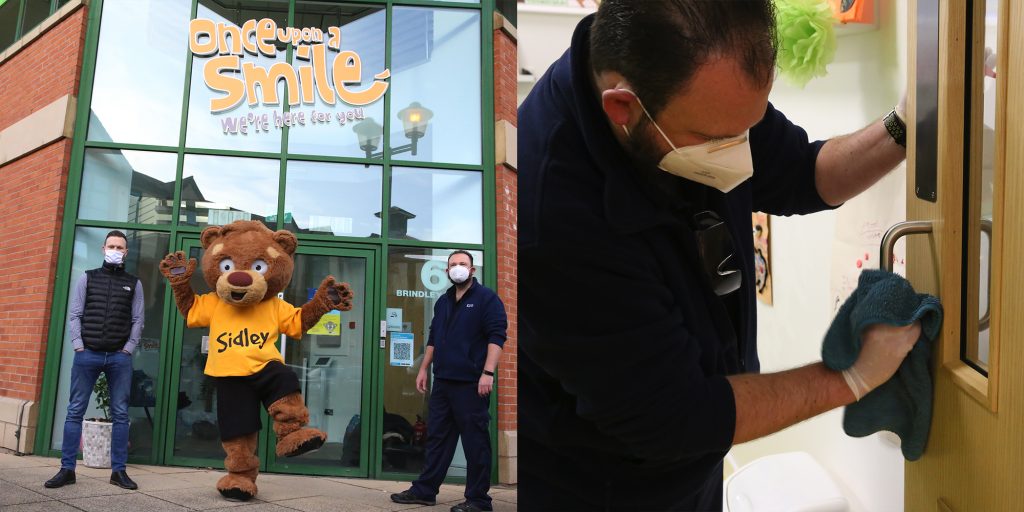 EDG Group understand that many smaller charitable organisations find themselves affected by the impact of Covid-19 and struggling to continue to deliver their much needed support to communities across the UK.  EDG wanted to help and donate their Coronavirus protection, Nano solution technology service to the smaller charity Once Upon A Smile, a Children's Bereavement Support service which supports bereaved families after the death of a loved one, specifically a parent or child/sibling.
Sidley House, their central hub, named after the charities' mascot 'Sidley' the bear is a dedicated children's bereavement centre that enables bereaved families to express in a fun and safe environment both in groups and individually.
Scott Austin, Operations Director from EDG Group says:
Our team at EDG Group wanted to support Once Upon A smile at no cost and to support them to continue operating safely during these difficult times and reduce the transmission of the "enveloped" TGEV Coronavirus, used as a model virus against the Coronavirus family on surfaces such as fabric bean bags, door handles and keyboards to reduce the transmission risk of COVID-19.
We are delighted to be able to donate ongoing protection so they can carry out their beneficial work in a COVID secure environment. Visiting and protecting Once Upon A Smile with our revolutionary Nano solution to provide long-term kill of the TGEV Coronavirus certainly put smiles on our faces and seeing the fantastic facilities for families, such as the Music Room and the Baking Room was a heartfelt experience. Getting a chance to protect a bear is a unique experience for us and we are glad to see 'Sidley' the bear, the charities' mascot back on his feet!
Here, Daniel Jillings from Once Upon A Smile discusses EDG Group and their TGEV Coronavirus protection:
Since the original lockdown was announced on the 23rd March 2020, it has been an extremely difficult time for charities, especially smaller charities, such as ours.
The welfare of our staff, children we support and those that support us, was paramount in the many difficult decisions we took.
As a self-funded charity, we rely heavily on the fundraising events that we as a charity, our supporters and corporate supporters plan and run throughout the year. The slow realisation that our fundraising year is now non-existent is a difficult and worrying time.
We worked extremely hard to ensure we could provide face to face support to our children at Sidley House and a lot of time and effort ensuring we are a COVID secure site, with safety at the forefront of our minds.
EDG Group has provided greater confidence for us by being protected by Nano Solution which kills the TGEV Coronavirus and this will allow us to continue our support knowing we have done all we can to protect those we support.
2020 has seen many charities gratefully accept support or need support at this unparalleled and stressful time. There are thousands of organisations in the UK which are contributing in the fight against coronavirus or supporting those whose work is vital during the pandemic.
MORE ON EDG GROUP
EDG Group, who have worked with various businesses and industries to manage logistics and facilities for over 22 years, are offering Nano glass coating that provides a long-term kill of the  TGEV Coronavirus, which is an "enveloped" virus and a model structure of the Coronavirus family and subsequent SARS, MRSA, AND N1H1 Influenza virus.